INTEGRATING SYSTEMS. ENABLING INSIGHTS.
Data Warehouse is a powerful and customizable cloud-based data management tool that puts the control into the hands of the user.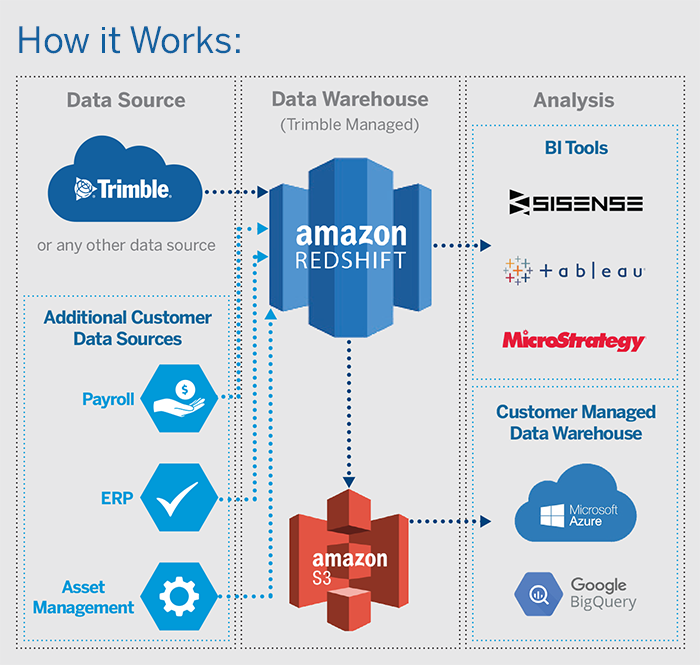 Harness the Power of Data-Driven Decisions
Users no longer have to wait for Trimble to export reports and datasets. This innovative tool enables customers to access important subsets of data on their own, to create customized reports and data analytics that can be used to improve business strategy and production workflows, as well as crop and labor efficiencies.
Data Warehouse can be used in conjunction with
many off-the-shelf Business Intelligence tools,
or paired with Trimble's BI tool, to enable users to
create unique dashboards of actionable reports
that provide key business insights that result in
profit-enhancing decisions on a daily basis. Using a
BI tool enables you to not only access your Trimble
database, but in many cases you will be able to link
to other databases.
Work with Trimble's Enterprise Solutions Team
Trimble OneAg Enterprise Solutions works with large farms and agriculture companies that want to take the next step in optimizing and leveraging Trimble Ag solutions to streamline their operations, enhance efficiencies, and drive profitability.
Our team works with customers to ensure they are leveraging maximum value out of our solutions in several areas: business analysis, customization, integration, farm/field analytics, training, and support.
We understand agriculture and know that every farm business and ag enterprise has its own unique challenges that cannot be met with an out-of-the-box solution. Our team works directly with customers to fill in the gap between off-the-shelf solutions and an optimal system that not only meets the requirements of the customer, but also reveals new solutions to enhance efficiencies and simplify operations.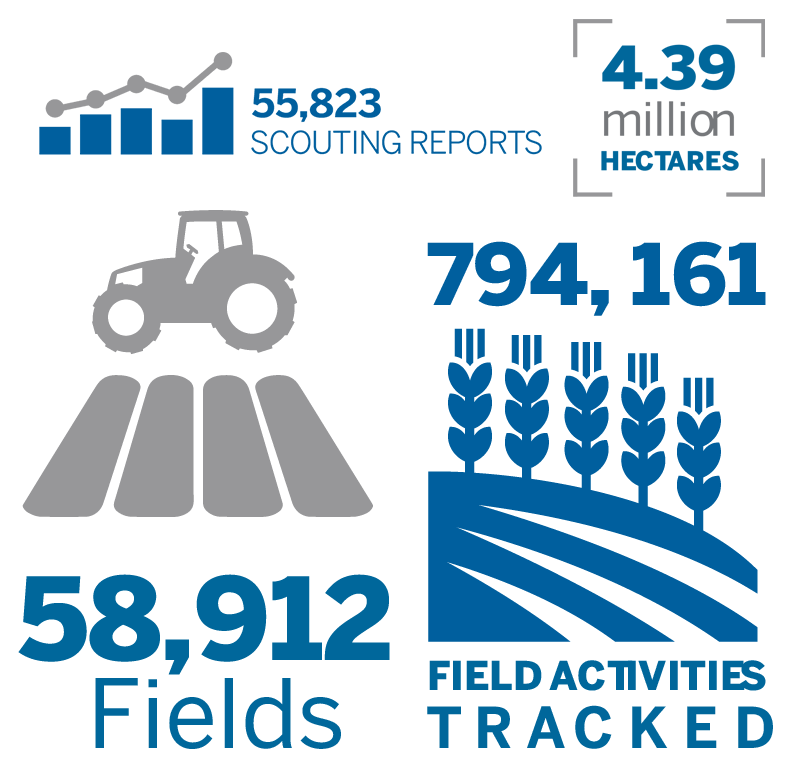 What You Get:
Direct Access to Data
BI-Ready Reports
Actionable Business Insights
Customized Dashboards